We've expanded...again!
March 15, 2012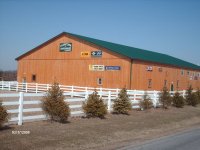 There have been a lot of changes if you haven't been here in a while. We have a new addition again which is where we hold our classes in plus have our specials. It will be open during the Spring Shop Hop with a lot of bargains and fun things to do. We now carry the Berkey Water Purifiers along with all the camping items and gamma containers.

Seeds are in and potatoes and onion sets are due in March 16th. The vadalia, candy & walla walla onion plants are due to arrive April 15th. This weather is making everyone want to start early.
« Back to Blog
Follow PlanktownHardwa